South Seas Airbrush Tanning System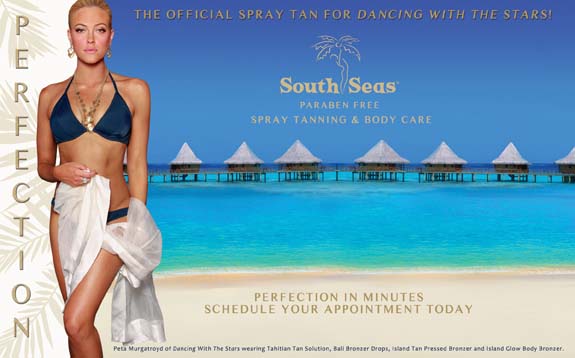 100% paraben free, organic, virtually odor free and goes on dry!! No tell-tale 'fake tan' odor or tackiness!!
$45 per tan; or $160 for package of 4*!
LAVA and ALL NATURAL Formulas ~ Easy Application, DHA and you can shower within 6-8 hours.
FIJI EXPRESS Formula ~ Easy Application, the same great color, and double DHA, plus you can shower within 2-3 hours.
CAFFEINE FREE Formula ~ Easy Application, great color, DHA and no caffeine for those with allergies or sensitivity.
Results last 7-10 days
Purchase the South Seas Tan Extender to create an even longer-lasting tan!
Since 2001, South Seas® Skincare has provided paraben free body care and body bronzing essentials to over 4,000 clients in the United States, Europe and Canada. Awarded 'Best of the Best' by Allure magazine three years in a row, many celebrity makeup artists rely on South Seas to perfect starlet skin.
*packages can not be shared, are non-transferable, and have an expiration date of 90 days from date of purchase